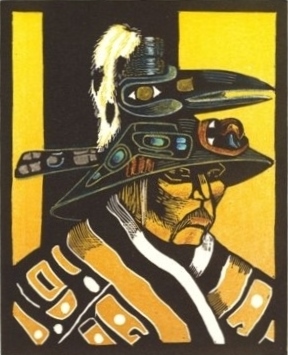 Wood Engraving w/tint block and colored penciling
Dale DeArmond
Edition of 25
Edition of A/P: 2
Paper type: Archival quality
Print size: 7″ x 8″
Image size: 4″ x 5″
Hand pulled by the Artist on an Ettan etching press at Sitka, Alaska on November 1995.
Note: 1 of 2 "Hat" series color engravings not included in the limited edition artists' book From Long Ago: Crest Hats, Masks and Faces from Alaska's Past.
Crest hat of carved wood topped with two woven potlatch rings and winter ermine skins. The story tells how Raven invited the birds to a salmon barbecue and tricked them into going over the mountains for fresh leaves while he ate the salmon himself.
Original price: $75.00