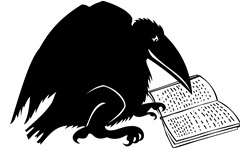 Unknown Medium
Dale DeArmond
Unknown Edition
Note: several copies of this print have surfaced; pencil signed and dated by DeArmond, they are unnumbered. It also includes her written "imp," indicating she personally pulled the print. It is thought to be a silkscreen though exact details are unknown.
An alteration of this image (its "magic and mischief" is omitted) is currently used as the logo for Friends of the Juneau Public Libraries, a non-profit organization which assists with special projects and was formed at Dale's urging during her tenure as library director.
Also see: Juneau Audubon.