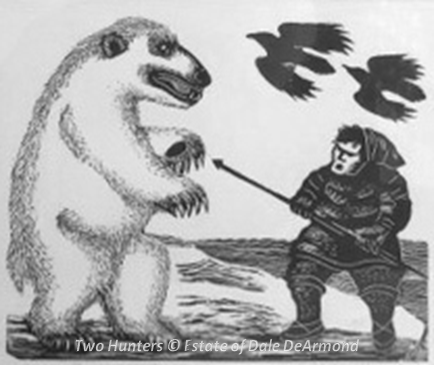 Wood Engraving w/blind embossing (two ravens)
Dale DeArmond
Edition of 15
Edition of A/P: 2
Paper type: Archival quality
Print size: 7″ x 9″
Image size: 6″ x 8″ (includes embossment)
Image size: 5″ x 6″
Hand pulled by the Artist at Sitka, Alaska, on an Ettan etching press 8.10.97.
Note: the two embossed ravens are difficult to display; they appear above the hunter. On one unnumbered artist proof, the two ravens are engraved and not embossed. Its certificate of authenticity (COA) lists a regular edition of 25, but the print is clearly numbered on front as an edition of 15.
A fight to the death between an Eskimo hunter and a polar bear. The two ravens overhead are keeping an eye on things. They don't care who wins but they are interested in the leftovers.
In the end the Eskimo hunter kills the bear. More leftovers for hungry ravens than if the bear had killed the man.
Original price: $80.00