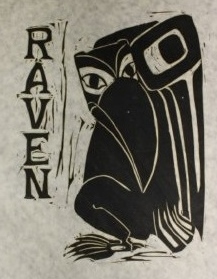 Woodcut
Dale DeArmond
Unknown Edition
Print size: 11 ½" x 17 ½" (estimated)
Image size: 9 ½" x 14 ½"
Editor's note: the color image shown is from an unnumbered and unsigned print; the other is a color separation proof that represents the primary block. As it strongly resembles Raven, it likely is related to Dale's 1975 book Raven: A Collection of Woodcuts – perhaps as an early design element. Little else is known.