Book
Written by Sheila Nickerson;
Wood Engravings by Dale DeArmond
Published by Old Harbor Press
Regular edition of 3000 (softcover)
Limited edition of 50 (hardcover)
Note: DeArmond knew that if she were to begin to master the craft, she needed a long project that would keep her engraving every day. She made a proposal to Sheila Nickerson, a poet and friend, that they create a bestiary of Alaskan birds and animals. They made a list of the creatures and Sheila created fifty-five short poems in a few weeks. It took Dale two years to complete the engravings, twenty-nine of which appear in this book. Some were done over as many as four times.
The softcover version is unnumbered and unsigned (although Dale autographed many at book signings). The hardcover version is signed and individually numbered. It seems especially scarce; no institutions (libraries or museums) appear to house it in their archives.
The illustrations shown below appear in this book; click on any image for more information. For volume II, click here.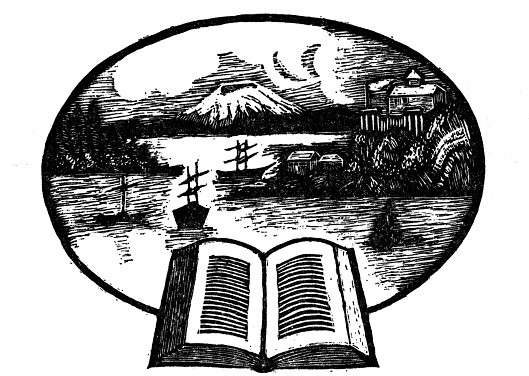 ​This book was hand set in 14-point Bembo type, printed with an original Heidelberg platen press on Mohawk Letterpress Text paper. Three thousand copies are bound in Neenah Classic Laid paper. A special edition, signed by the author and artist, is bound in Canson Mi Teints paper, with Moriki end sheets and has a print, limited to 50 copies and hand pulled by the artist, from the original wood engraving.
The title of this book comes from the Eskimo observance of a feast day to honor the animals and birds who have let themselves be killed so that people can have food and clothing and the many artifacts they make from the hides and bones and beaks. At one point in the ceremonies the hunters return to the sea the bladders of the animals they have killed so that the inuas (souls) can return to them and there will be more animals the following year.
Original price:
paperback: $12.95​; limited edition: $50.00
ISBN: 9780961552947
ISBN: 9780961552992
ISBN: 0-96-155294-8